2011 has flown by with preparations well underway for an adventure set to begin in February 2012. The bike has covered more than 1600 kms, this time on beautiful roads, with smoothly flowing traffic and no rabid dogs racing out to bite one's ankles. I have joined other vintage enthusiasts on rallies or taken short runs in the different regions we've spent time as house sitters. In Tasmania I rode the FN up Mt Wellington. Covered in snow and ice the road was treacherous but it provided a great opportunity to see how well the bike & I would perform in tough conditions. Of the 12 kms steep climb to the top the FN managed admirably requiring only 1km of pushing.
The bike finally seems to be running perfectly and I'm confident it will manage the overland journey to Belgium. There's been a good deal of trial and error to get everything spot on. Oil leaks have been a constant headache. It's been challenging to find a good balance between fuel economy and performance. As a result, the inlet valve settings have been altered many times. I've experimented with changing cam timing in the hope of increasing both performance and fuel economy. Relevant statistics include:  The petrol tank holds 6 litres and the oil tank holds 2 litres. Fuel consumption is currently running at approx 19kms to the litre. With a few final adjustments it is hoped this can be improved slightly. Grease is used as the lubrication for all the transmission. The rear wheel has a double braking system, consisting of an internal expanding drum brake and an externally contracting drum brake.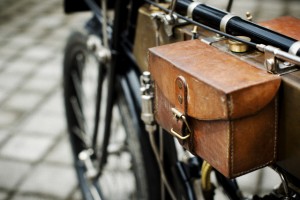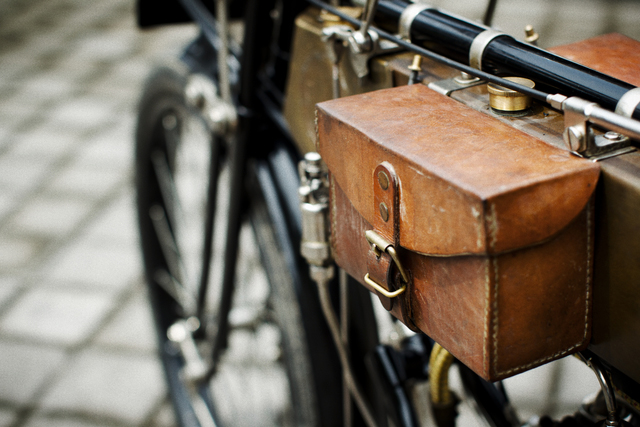 Consideration has had to be given to the limited space available & weight as to what can be carried. An example of this has been the modification of large ring spanner to make a 5 spanner tool kit to fit every nut on the bike. A spark plug operated tyre pump reduces the need for a conventional hand pump and is a lot easier to use as the piston of the engine inflates the tube rather than manually.
Clothing & camping equipment take up a lot of room & thought has had to be given to how easy each bag/pack can be removed from the bike, with security and convenience in mind. Bags need to be waterproof, light and yet strong enough to withstand constant use. A soft set of panniers have been made with quick release fastenings. There's the need to weigh up how easy it is for people other than the rider to remove anything, but from past experience theft has rarely been a problem. Here's hoping it continues that way.
Sept 2012 marks the 10 year anniversary of the FN Treffen (rally) in Bernkastel, Germany and the plan is for me to take part. Visiting the Fabrique Nationale factory in Belgium is a must, as is stopping in Mannheim Germany for the Veterama Swap Meet. There's a plethora of fantastic vintage vehicle museums to visit in Germany & The Netherlands, famous racetracks to visit in several countries, friends old and new to yarn with and enough sights & sounds to keep this old bloke on his toes.