Crossing the Wagah border was literally a sight for sore eyes, but in a nice way. With exhaust fumes of the past few weeks enough to make the eyes water and the throat raspy, it's been nice to have a little less traffic to compete with. Roads have also improved. Streets are wider, cleaner and there are parks with trees & grass, something I haven't seen in a while. My taxi driver friend took me to the home of Dr Omar Khan, from the Pakistan Bikers Club. The welcome extended by Omar as a kind and generous friend was wonderful and I'll be forever grateful for his kindness & hospitality. Two other lovely friends, Ali & Akbar have also been gracious  in sharing their time with me, showing me around and helping in every way they could.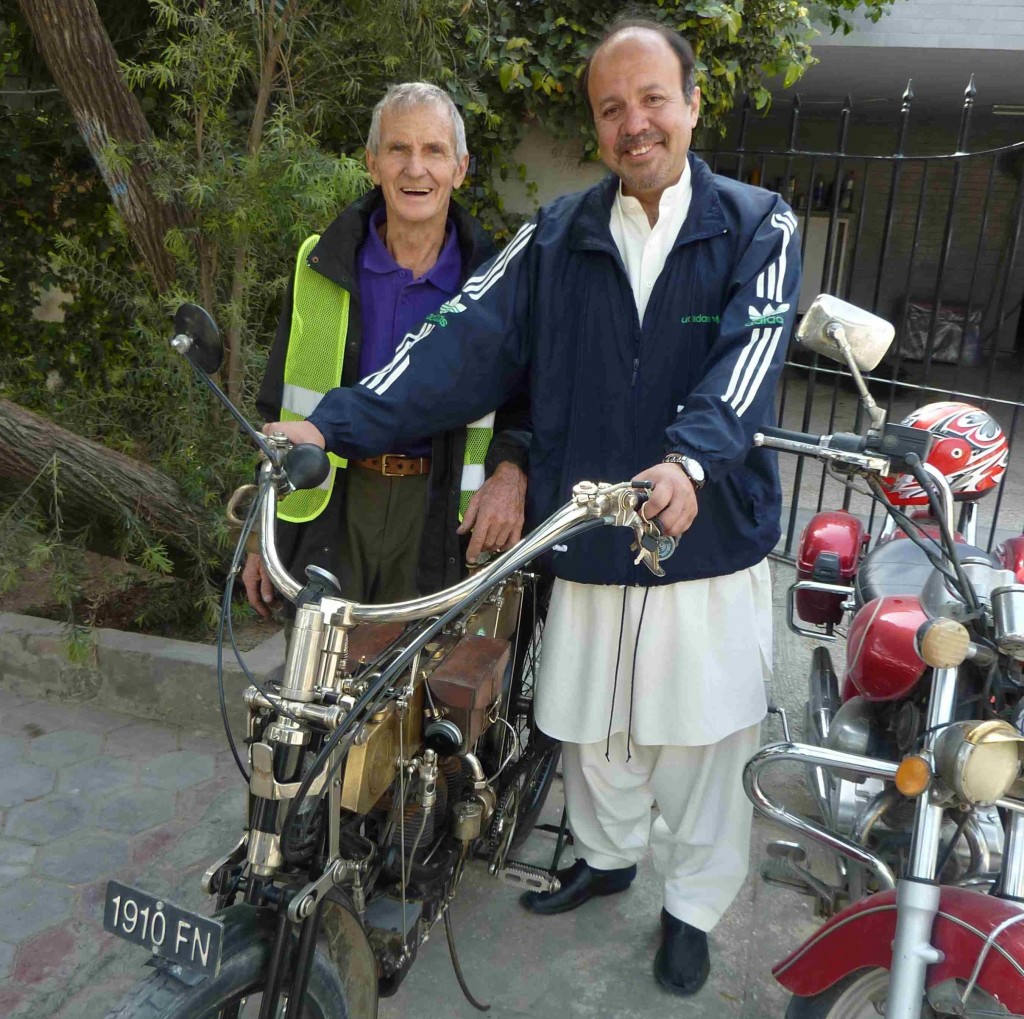 It was down to some serious business with several trips to the Iranian Embassy before I finally received my visa. The opening hours & the procedure may have all seemed a little irregular to a foreigner but all the while I was treated with great courtesy and friendliness.
Here's how it all worked…Arrived at 9am Saturday, told to return at 10.30, wait til 11am, sent into the next room to wait til 11.30 then my turn at the counter. A huge ledger of photocopies with my name in the column – what a relief!  The official wrote out a chit and sent me downstairs. Sorry, bank closed, come back Monday. Monday I paid the money and Tuesday I received the visa. It's all very simple when you know the process.
Omar had arranged for TV interviews as he and other club members are trying hard to educate young riders on safety, so this was an opportunity to bring motorcycling to the attention of the public. The interviews began with one channel, Express TV and the program broadcast in Urdu. Then other channels got involved and the interviews stretched out to 4-5 hours – all for only 2 mins of television time, but hopefully the message came across well.
About 25 members of the Pakistan Bikers Club had gathered in the park for a demonstration and to talk about the bike and a large crowd joined in and a good time was had by everyone. Given the segment was widely shown, people began coming up to me in the street to say they had seen me on TV and wanting to shake my hand. Where's Ewen McGregor when you need a stand-in? One lovely gesture, amongst so many others was when a woman apologized for not having a gift to give me and brought an icecream for me instead.
Effie needed some attention as a wheel bearing had collapsed. Having been on the bike for 30 years, the grease had well and truly dried out so a new one needed to be machined. At the engineering shop when I took off my helmet the guy there said, "I know you, I saw you on tv".  The hub for the FN is smaller than a standard bearing. So I had four made to give me a couple of spares. Again the kindness and generosity of the Pakistani people, just as in India was touching and the engineer refused to charge me fully for all of the work he'd done and we had to settle on a compromise.
Traveling on the Karakoram Highway, or KKH as it's more commonly known is a great attraction for motorcyclists, local and from overseas.  There didn't seem much point in taking the FN hundreds of miles just to prove a point. I could have flown to Gilgit but planes are frequently turned back because of the weather so I decided to catch a bus north instead. I'd heard the road was pretty rough going but after a few weeks on the FN how hard could it be? And beside, a change would be good. My plan was that I could hire a small bike a do some touring near the border, so I took along my helmet just in case the opportunity arose.  Boy, little did I know how challenging a bus trip could prove to be, especially to someone with as bony a bum as mine!